Until now, if you lost your Android phone or if someone stole it, you had only little chances to find it, unless you installed an application like Where's My Droid, Lookout Mobile Security or Avast Anti-theft.
However, a few days ago, Google released a pretty useful tool called Android Device Manager. Compatible with all Android phones starting all the way down to Froyo (2.2), this web app enables you to locate your device, wipe it remotely or make it ring at full volume — even if it's silenced —, which comes in handy for those moments when your couch decided to eat your smartphone.
I gotta admit I don't really understand their choice concerning the name here. I would have called it something along the lines of Android Device Locator, because now, the name doesn't quite explain what it really does.
Anyway, to locate your device, head over to http://www.android.com/devicemanager and log in to the Google account linked to it. Here's what you'll see: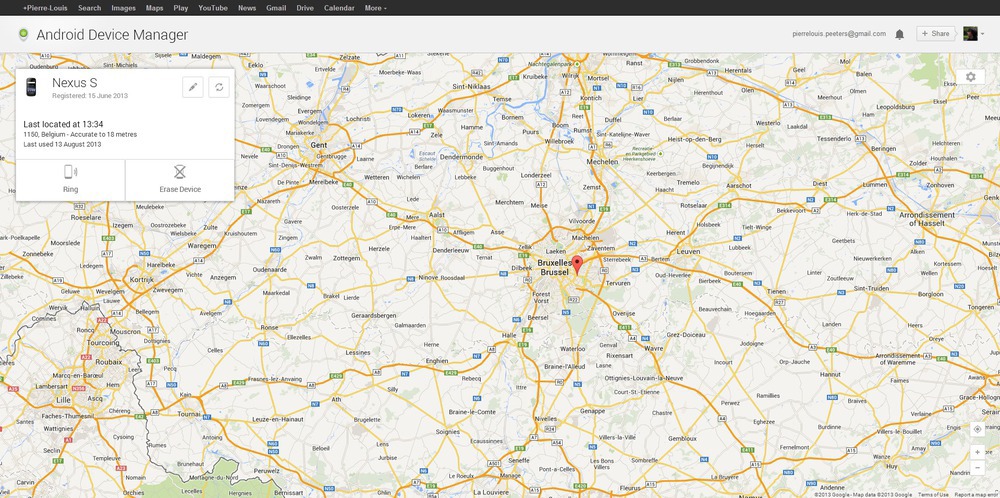 Normally, there's nothing to install for it to work. However, if you encounter the same problem I did, which is the app just telling you you have no active devices, follow the steps below and you should be good to go (you could try to reboot to see if that fixes it, I forgot to try that first):
Open Google Settings, then go to Android Device Manager and uncheck Allow remote factory reset
Open the Settings app, then go to Apps in the All tab and finally tap Google Play Services
Tap Clear Data
Still in Settings, go to Location access and make sure Access to my location is On (Google doesn't mention this, but after some tests I've noticed the service doesn't work without this set to on)
Go back to Google Settings and recheck Allow remote factory reset, giving admin rights when asked
Ensure the Remotely locate this device option is also checked
If you're on Android 4.1 or above, still in Google Settings, go to Location and make sure Access location is checked
Reboot your device
Once your device rebooted, refresh the Android Device Manager page. Your device should appear. If that's still not the case, wait a few minutes and try again.
The fact that this function is integrated into Android by default without the need to install an app or to — normally — activate it is an excellent idea. It's a step further in the fight against theft and phone-eating couches.