Some of you may have noticed the Flattr button that appeared at the bottom of my posts a couple of months ago. I added this button after starting the experiment proposed by Ploum. The experiment he suggests, which I also suggest you try, is to pay €2 each month for the content you consume on the Internet: blog posts, YouTube videos, music, etc.
It's not about making the content accessible for a fee, it's about making it payable, which is a huge difference. The difference is that you choose which content you want to reward the author for. It's like going to the movies and, when the movie ends, deciding if the movie was good enough for you to pay the ticket.
The way Flattr works is pretty straightforward: you create your account, you put money on it using your credit card, Sofort or a bank transfer, and then you choose a monthly budget (€2, €3, €5, … all the way up to €250). Once that's done, you can start flattring content you like by simply clicking the Flattr button if there is one. It's also possible to subscribe to a certain author or thing to flattr this author or thing automatically each month.

If the content has no Flattr button, don't hesitate to contact the author to raise his awareness about the platform and tell him to add a button ;-)
There's also a browser extension for Flattr, which will save you the trouble of looking for the button on web pages. If it is possible to flattr the content, the button will appear in your address bar.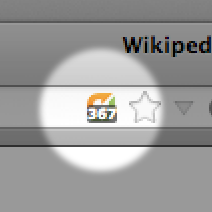 Flattr also integrates with different websites, such as YouTube for instance, where it is possible to automatically flattr authors of videos you liked. Sometimes, it's also possible to flattr content that has no Flattr button. The flattr is then put on hold and will be debited when the creator of the content registers on Flattr.
At the end of each month, your monthly budget is debited from your available funds. It is then split among all the authors you flattred during the last month. Note that Flattr takes 10% on each donation you make (hey, they needed a business model somewhere; I find 10% to be reasonable). Here's an example: you have a monthly budget of €3 and flattred 3 authors one time and one author 2 times the last month. Flattr will take their €0.30 cut and divide the remaining €2.70 by 5, which is your total number of Flattrs this month. The first three authors will then receive €0.54 and the other one will receive €1.08, since you flattred two of his creations.
If you are curious, I invite you to try it out. Like Ploum says, in the worst case, you'll have spent €24, of which €21.6 will have gone directly to creators whose content you liked. If you want, you can even limit the experiment to 6 months by transferring only €12. Furthermore, if you're a content creator like me, don't hesitate to add a Flattr button to your website to allow your readers to support you if they want to.
I personally started the experiment a month and a half ago and I have to say I really like it. I love being able to support the authors of the good content I consume daily on the Internet, all without going broke :-)