After a little more than three weeks with the OnePlus 2 as my daily driver, the time has come to publish my review.
First Impressions¶
The first thing I noticed when getting the phone out of the box was the build quality, which is really excellent. The phone has a very premium feel to it, which is in part due to the magnesium alloy frame. Just like with the OnePlus One, the sandstone cover gives the phone that signature feel. Speaking of the back, the StyleSwap covers are really easy to change, which wasn't the case with the OnePlus One. As you will see in the pictures below, I went with rosewood, which I find gives the phone a nice personal touch.
Regarding the backlight of the capacitive buttons, they are brighter than they used to be on the OnePlus One, which many people have found to be too dim.
On the software side of things, setting up the phone was a breeze: It only took me a minute or two. One of the first things I did was unlock the bootloader in order to root when I feel the need to, since rooting doesn't void the warranty of this phone. It was as simple as typing fastboot oem unlock in my terminal with the phone connected in Fastboot mode.
The size of the phone is pretty standard for modern phones, although it tends to be on the smaller side for 5.5-inch phones. It's a tiny bit smaller than its big brother, the OnePlus One.
Performance wise, the phone is pretty snappy and responsive overall, although there seem to be some slowdowns when launching non-cached applications. The battery on the phone easily gets me through the day with 3 to 4 hours of screen-on time on a full charge.
Ordering the Phone¶
Ordering the OnePlus 2 is a pretty straightforward process. Once you get your invite, you can claim it on your account and start placing your order. You can then select whether you want the 64 GB or the 16 GB version, as well as which StyleSwap covers you wish to add to your order. You can add up to 4 different StyleSwap covers, choosing between bamboo, Kevlar®, black apricot and rosewood. I went with rosewood. Once all your options are selected, it's time to choose between standard and express shipping. In my case, express shipping was only €5 more expensive, so I went with that. Here's the timeline of my order for anyone interested:
August 11, evening – Order placed
August 13, morning – Order status changed to processing
August 13, evening – DHL tracking number received
August 14, morning – Phone delivered
As you can see, my phone arrived pretty quickly after I placed my order.
Packaging & Contents¶
The packaging of the phone is nice and simple. The unboxing experience is pretty classic, as opposed to the OnePlus One, which had a rather unique unboxing experience. Here are some pictures of my unboxing:
The contents of the package are pretty standard too:
The OnePlus 2
A charging brick
A 105-centimetre USB type-C cable (reversible on both ends)
A warranty booklet
A quick start guide
The phone has a plastic screen protector pre-applied, which was a really pleasant surprise. It's a bit of a fingerprint magnet, though, but it's still better than having none and having to wait for yours to arrive. Shipping phones with screen protectors should be an industry standard.
Specifications¶
Just like its big brother, the OnePlus 2 comes with a 5.5-inch 1080p IPS display manufactured by JDI. It packs a Qualcomm Snapdragon 810 SoC, which has a quad-core ARM Cortex A57 clocked at 1.82 GHz, as well as a quad-core ARM Cortex A53 clocked at 1.56 GHz. The GPU is an Adreno 430, clocked at 630 MHz. The processor is backed by 4 GB of LPDDR4 RAM and a 3,300 mAh non-removable Li-Po battery for the version with 64 GB of eMMC 5.0 storage. For the 16 GB version, which hasn't been released yet, the phone "only" comes with 3 GB of RAM and a 3,100 mAh battery. Just like last year, OnePlus opted not to include a microSD card reader. The phone also features a fingerprint scanner and dual SIM, with dual SIM dual standby support, which means both SIM cards are active at the same time.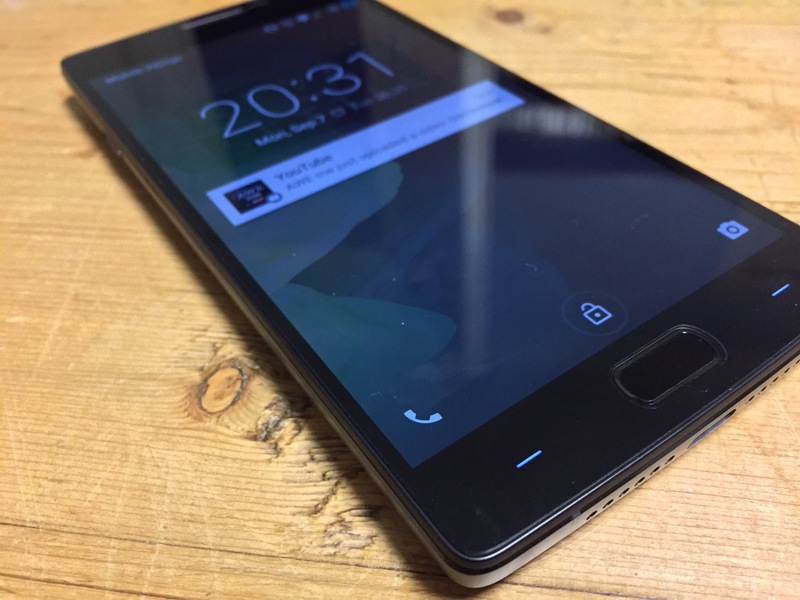 On the software side of things, the OnePlus 2 ships with Oxygen OS, which is a custom version of Android 5.1.1 developed in-house by OnePlus. Despite being a custom version, it offers a mostly near-stock experience, but more on that later.
Regarding the dimensions of the phone, it measures 151.8 x 74.9 x 9.85 mm, which is almost as small as it gets for a 5.5" screen. The phone falls in the heavier category, with 175 grams, but the weight gives it a nice sturdy feeling in the hand.
Look & Feel¶
As mentioned above, the build quality of the OnePlus 2 is excellent; It feels like an expensive phone from the second you get it out of the box. One strange thing about it is the position of the volume buttons: They are on the right side instead of the left, which was a bit confusing at first. OnePlus didn't move those without a valid reason though, since you'll find the alert slider right where you would usually have your volume buttons. As with the OnePlus One, the power button is at the perfect spot to rest under my thumb. The buttons feel sturdy and have a nice click to them, and the alert slider is hard enough to avoid changing notification modes in your pocket.
Display¶
As stated in the specifications, the OnePlus 2 comes with a 5.5-inch 1080p IPS display, which makes for a 401 PPI density. OnePlus opted not to go with a Quad HD display, which is in my opinion a sensible design choice. Except if you constantly use your phone for VR, anything over 1080p is overkill on a phone this size; It would just run hotter and have a shorter battery life. As MKBHD also rightfully pointed out, low-end Quad HD displays tend to have worse quality than high-end 1080p displays, and you can't expect a high-end Quad HD display in a phone starting at €339.
The display looks really great and has insane viewing angles. Remembering the yellow tint issues on the OnePlus One, I naturally checked my phone for any kind of yellowing, and I'm happy to report there isn't anything of that sort. If I really pay attention, I can see there is a bit of a dark gradient at the bottom of the phone — which is where the LEDs are located —, but it goes totally unnoticed when you use the phone.
The brightness of the screen is pretty great, even in direct sunlight. It does seem a tiny bit dimmer than the OnePlus One, but it still works perfectly fine for me in most conditions.
Performance¶
The performance of the OnePlus 2 is pretty great. However, as I mentioned, there are sometimes some slowness issues when opening non-cached apps. Once open, the apps are pretty snappy though, so it's not that big of an issue. I'm pretty sure this will be fixed in a future update. I'm not really a phone gamer, so I didn't try gaming on the phone, but my guess is it would be pretty good. The phone scored a ridiculously high 63,335 in AnTuTu:
The OnePlus 2 also scored 24,348 points in GPU benchmark 3D (normalized score: 50,487), averaging at 77.81 FPS: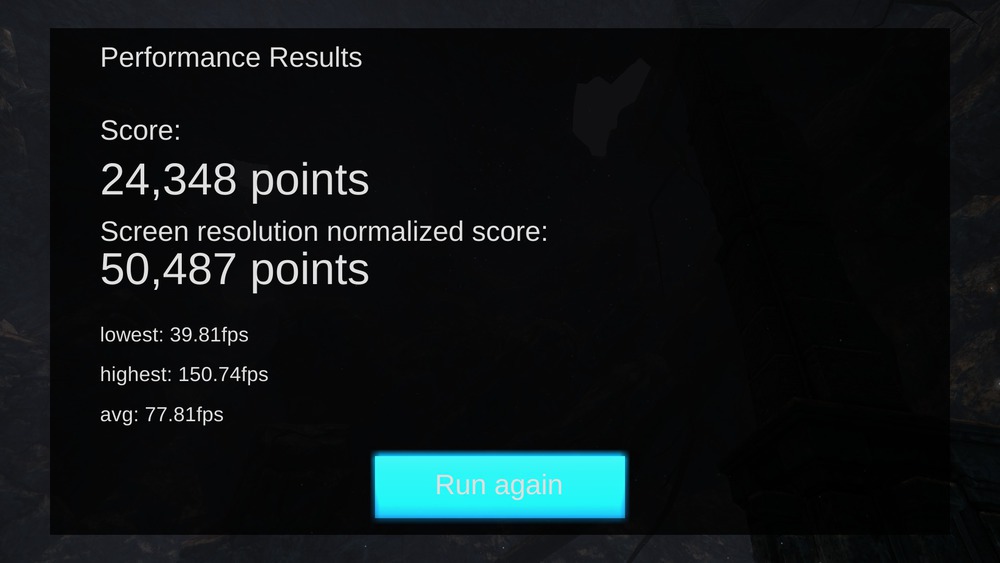 Speaking of performance, it's time to talk about the Snapdragon 810 chip used in the OnePlus 2. As opposed to most phones which come with this chipset, the OnePlus 2 doesn't seem to be overheating. It does get a little warm from time to time, but nothing alarming. When running AnTuTu, the phone got to around 40 °C. GPU benchmark 3D, which is known to be rather intensive, raised the temperature from around 30 °C (idle), to approximately 48 °C after two consecutive runs. The phone didn't really feel hot; just a bit warm.
Battery Life¶
Battery life on this phone has been pretty great so far, although I feel it could still be improved a little bit. Not that it's really needed, but it would still be appreciated. The OnePlus 2 easily gets me through the day, which is all that matters to me.
Charging the phone takes about two hours, which I find to be pretty quick, although many people seem to want quick charge technology.
Camera¶
The camera of the OnePlus 2 uses a 6-lens Omnivision PureCel-S™ OV13860 sensor with an f/2.0 aperture and a 13-megapixel resolution. Although the resolution of the sensor is the same as the one used in the OnePlus One, it is bigger, which makes for a bigger pixel size, meaning better low-light performance and generally less noisy pictures.
The camera module also has a dual-LED flash and optical image stabilisation, which is a quite welcome addition. Last but not least is laser focus, which allows the camera to focus a lot faster and easier, especially in low-light situations. The camera app in itself is pretty basic for now, but it gets the job done. One thing I don't like about the camera is the HDR mode, which I find to be overly aggressive in most situations. RAW support is already planned for a future update (I'm hoping the mid-september one).
Anyway, enough talking; I'll let the pictures speak for themselves.
Note that I never made a particular effort to hold still when taking my pictures; I just did standard point-and-shoot (I did use tap-to-focus when needed, of course). The only exception is the picture with the moon, where I rested the phone on a solid surface. I did move a little when taking the picture, but that didn't affect the resulting picture. Here are some 100% crops from the shots above:
Comparison with the OnePlus One¶
Before selling my OnePlus One, I took the time to take quite a bit of pictures in order to compare the two sensors. The pictures on the left were taken with the OnePlus 2, and the ones on the right with the OnePlus One.
Here are some 100% crops from the comparison:
I was pleasantly surprised by the improvement; I didn't expect it to be that noticeable, especially since both sensors have the same resolution. The optical image stabilisation and the larger sensor really seem to make a substantial difference. Laser focus often allowed me to focus much faster too, but that was to be expected. The OnePlus 2 tends to have better white balance and more true-to-life colour reproduction compared to the OnePlus One. The shots also tend to be less noisy overall.
Oxygen OS¶
In my first impressions, I marked Oxygen OS as being one of the low points of the phone. I'm happy to say I don't see things that way anymore, given the speedy updates we're getting. The first update fixed all the issues I had, except for the speed issue when opening apps, which I mentioned above. However, there's already a big update planned for mid-September, so I'm hoping that one will fix it.
Having used CyanogenMod on all of my phones, there are naturally some features I'm missing in Oxygen OS, namely:
Profiles (with location awareness via Wi-Fi, like on CyanogenMod)
Better location quick settings (the current setting is either on or off, instead of being able to choose between battery saving and high accuracy)
A quick setting for performance profiles, so I can activate battery saving mode easily if needed
A quick setting to enable/disable LTE
A setting to change the DPI, since the default one makes everything look ridiculously huge (although I ended up getting used to that)
Given the speed at which updates are getting rolled out, I'm confident at least some of those will get implemented eventually.
Speakers and Audio Quality¶
The quality of the speakers on the phone is pretty great, if you disable MaxxAudio that is. The first time my alarm went off, I found the sound quality of the speakers really terrible. I went to take a look in the Audio Tuner app and found out the default settings had way too much bass (for me, at least). After turning MaxxAudio completely off, the audio quality went from terrible to great, which is a bit ironic, but at least the phone can sound great.
The volume of the speakers is pretty nice, too. I compared it to the volume of my 13" mid-2010 MacBook Pro and it seems to be a tiny bit louder, which is pretty nice. The speaker also sounds a bit better than the ones on the MacBook, from my experience at least. The audio quality through headphones is also excellent.
Fingerprint Scanner¶
The fingerprint reader on the OnePlus 2 is a really nice addition. At first, I didn't think it would be that useful, but it ended up being one of the features I enjoy the most. It makes the process of unlocking your phone significantly easier. A fingerprint sensor is now something I would definitely look for when buying a new phone.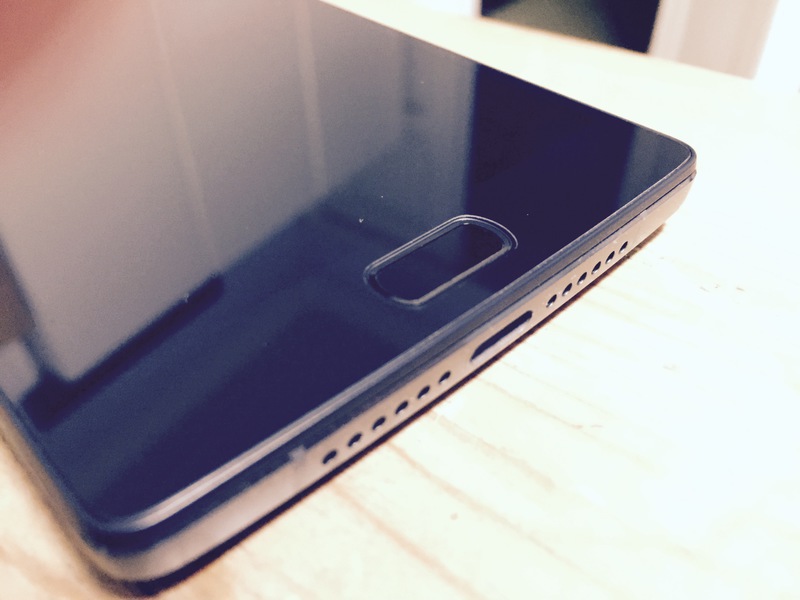 One small thing, however, is that OnePlus stated it was quicker than the iPhone, which it isn't, at least if we're speaking strictly about the sensors. It's maybe as fast, but not quicker. From the user experience, you do get to your home screen faster, since the iPhone simply has more animations to get there.
The sensor can be a bit hit and miss, though, even if that seems to have improved quite a bit with the latest update. It very rarely still fails to recognize my print, forcing me to draw my pattern instead, but that issue has been happening less and less often. Those little issues are still a bit annoying though, especially since a fingerprint scanner is supposed to speed up the process of unlocking your phone. Future updates will certainly continue to improve this.
Alert Slider¶
Just like the fingerprint scanner, the alert slider is not something I expected to enjoy that much. I was once again pleasantly surprised. I flick the switch to priority mode when I arrive at work, or to 'alarms only' when I get in a meeting or go to sleep at night. It's incredibly handy to be able to switch between notification modes by simply flicking a switch.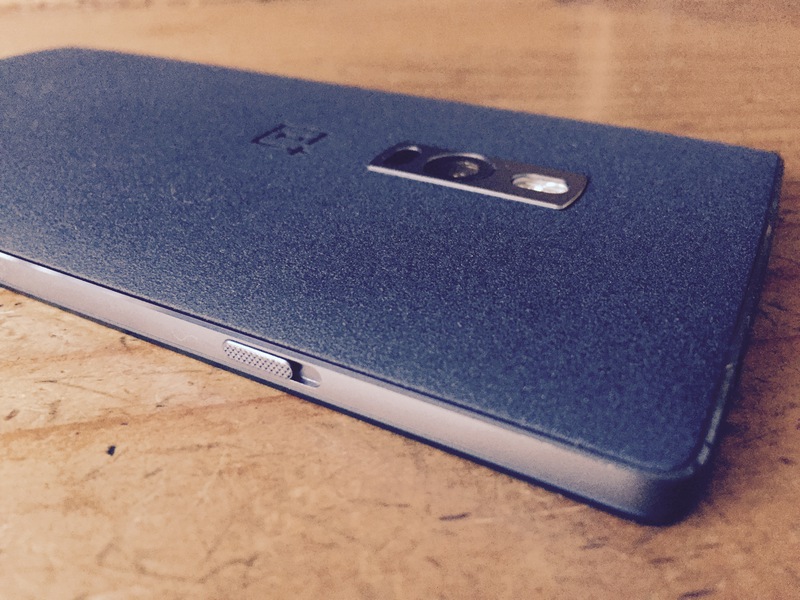 One little thing I don't like about the switch is the order: 'alarms only' mode is on the top, while 'all notifications' mode is on the bottom. It would make more sense to silence the phone by sliding the switch down rather than up. I wish OnePlus would add an option to configure this so I can invert it.
Dual SIM¶
I haven't used the dual SIM capabilities of the phone just yet, since it has no use to me for now. Nevertheless, I can definitely see this becoming useful once I get a phone subscription from my employer. I find it better to have separate numbers for personal matters and work matters, which is now possible without having to carry two phones with me, thanks to the dual SIM feature.
Conclusion¶
After more than three weeks with the phone, I can say I would definitely recommend the OnePlus 2. It's an amazing phone with top of the line specs, promising software support, a really great camera and some unique features. Whether it's a worthy upgrade from the OnePlu One is really a matter of personal preference. If you need dual SIM support or want a fingerprint scanner, an alert slider or an amazing camera, the upgrade is definitely worth it.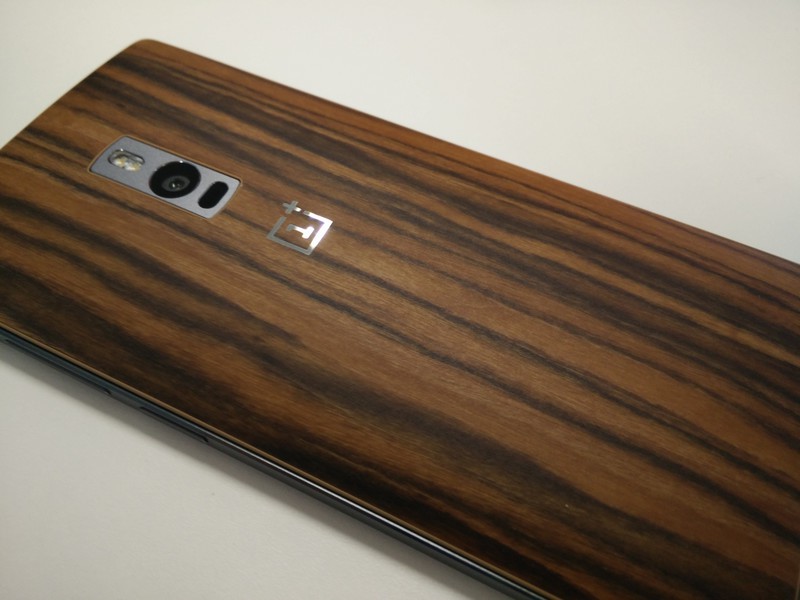 The phone can be a bit tough to get your hands on due to the invite system, but more and more invites are going out each week at a pace that is definitely faster than last year's OnePlus One invites.
What's your favourite feature of the OnePlus 2? Share your thoughts in the comments.