Privacy on Facebook has always been a big issue. The social network recently revamped its privacy settings again, to make them more accessible and clear.
The first change many of you probably noticed is the padlock that appeared in the menu bar. This lock grants you access to three main questions users often ask:
Who can see my stuff?
Who can contact me?
How do I stop someone from bothering me?
If you click on those questions, you'll be taken directly to the associated privacy settings.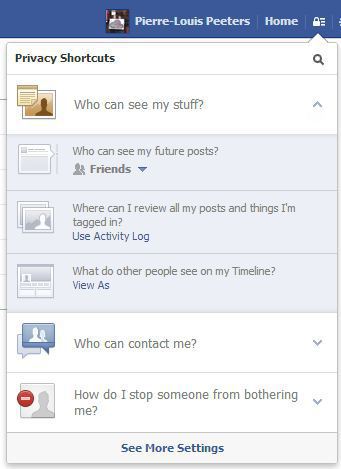 Another change is the ability to easily review everything you posted and everything you've been tagged in with the new, revamped activity log. Here's what you can review with it:
Everything you have ever posted to Facebook.
Every post you are tagged in.
Every post your friends made on your Timeline.
Every picture you've been tagged in, enabling you to untag photos en masse.
Every comment you've ever made.
Your profile's change history.
Everything apps posted to your Timeline.
Events and polls you've participated in.
Your search history (it's kinda scary they actually keep that…).
…
The button to access your Activity Log is located at the top right of your Timeline. All in all, Facebook finally gives us a little control on our data, which is quite a nice thing.