Two days ago, SwiftKey updated their famous Android keyboard to finally integrate Flow, which had been in beta for some time now.
As a reminder, Flow enables you to type by swiping your finger from key to key, just like Swype. The new app also has a more thorough learning of your language and typing style, enhancing personalization even more. Predictions are now also available in more different text fields, like Chrome's address bar for instance. A nice fix included in the update is that now, the prediction engine pauses whenever it detects you're typing an URL. It does the same when it detects you're typing an email address.
Another pleasant addition is the possibility of correcting already typed words easily. Just tap on the word and the cursor will go right behind it so you can select another prediction or retype it if needed.
The keyboard now also supports 6 more languages (Albanian, Bosnian, Javanese, Sundanese, Thai and Vietnamese), bringing the number of supported languages to 60.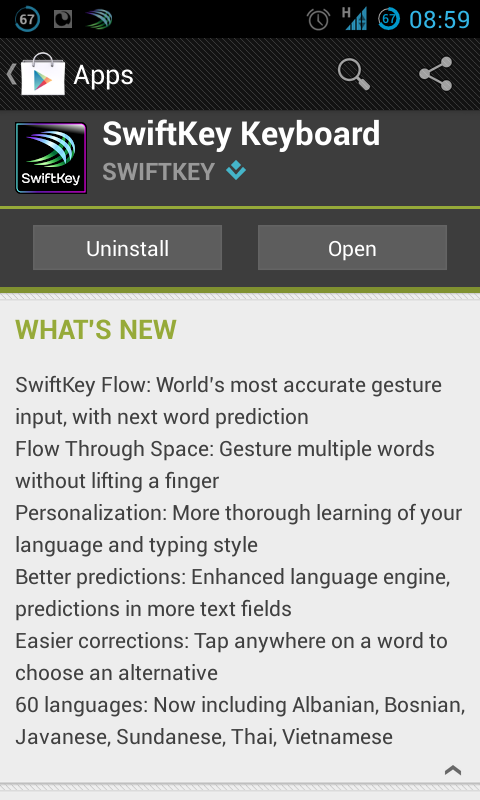 I've personnally been using SwiftKey ever since I've had an Android phone (I got my first one 2 years ago). I've tried other keyboards, but I always ended up going back to SwiftKey, missing its powerful predictions.
Then arrived SwiftKey Flow's beta, which I installed immediately. The new swiping function made SwiftKey even more essential. When I'm able to use both hands, I usually type using my two thumbs. The true potential of SwiftKey, however, reveals itself once you have only one hand available to type (like in a crowded metro for instance). All you have to do is swipe from letter to letter to type your message at a totally normal pace. It's also possible to swipe through the space key to enter multiple words without lifting your thumb.
In my opinion, the only thing this keyboard still misses are custom emoticons. A suggestion on their support forums concerning this has been under review for a year and a half now, let's hope they'll implement it one day…
To download the update or to get SwiftKey, head over to the Play Store (tablet version) (hurry up while the sale lasts —2 bucks instead of 4—, even if I think it's well worth the full price). There's also a free one month trial available here (tablet version). SwiftKey is free since June 10, 2014.