Find'Em Tracking is a handy little gadget I stumbled upon recently. It's a device the size of a credit card that has an integrated Bluetooth 4.0 chip. This device, once combined with your smartphone, will warn you if you forget it somewhere. "What's the point?", you ask? Never forgetting your valuables somewhere again.
Imagine you forget your wallet somewhere (with the card in it, of course). Once you're more than 6, 9 or 12 meters away from it, your phone will warn you. There are lots of other possibilities:
You can put it in your luggage, which will protect them against theft at the airport.
With the card in your luggage, you can then be warned when it arrives on the conveyor belt at the arrival.
You can put it in your bag to avoid forgetting it on the train.
As you can see, there are a lot of possibilities. In case you lose the card, the associated smartphone app has a hot and cold radar that will help you find the card (and thus the object it is in). The card also has a buzzer so you can find it more easily. Concerning the range, it is about 45 meters.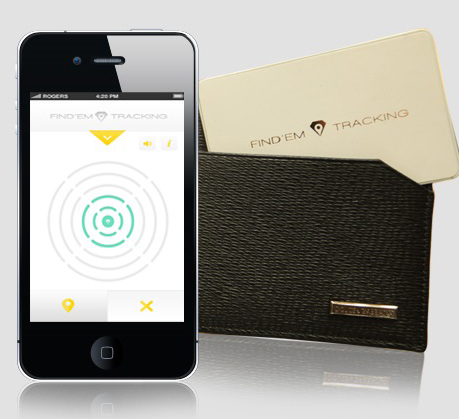 In terms of battery capacity, it should last about 18 months and is user replaceable. The battery in question is a CR2016 battery, which costs only a few euros. You're probably wondering about your smartphone's battery life due to the continuous use of Bluetooth. Well, since it's Bluetooth 4.0, which is also called Bluetooth Low-Energy (BLE), it's not a problem since it consumes very little battery.
Shipping is scheduled for March 2014. The Find'Em Tracking card is available for pre-order in black or white at the price of $24.99 (+ $15 shipping if you're outside the US). I'm talking about pre-orders because the final price will be $34.99. At the moment, it's possible to order two cards for $44.99. In euros, this makes it around €30 for one card and €44 for two (shipping included). Here's the presentation video:
I find the concept really interesting. I think this could come in pretty handy for some people. Moreover, they did a nice move by allowing the user to replace the battery. It seems stupid, but they could've done what most (too many) companies do and force us to buy a new card.
Let's not forget the link to the website: http://www.findemtracking.com/.
What's your opinion about this card?
Sources: Find'Em Tracking