After Apple's huge fail with its own maps application, Google started developing a native iOS application for Google Maps.
We feared it might be refused by Apple, like they often do with applications a little to similar to the built-in ones, but fortunately they approved the app and it is now available on the App Store. According to The Verge, it's one of the most beautiful cartography applications out there at the moment.
Here's their quick test:
There are no offline maps for now, but they could be included in a future update. Fortunately, the app caches some data to avoid interrupting your navigation if you enter a tunnel for instance. By the way, navigation works even when you're not in the app, voice navigation included.
When you open Google Maps, the first thing you notice is the huge interface improvement compared to the pre-iOS 6 version. It's a lot cleaner, which is really nice despite the fact it made the app less intuitive. Users should however get accustomed to the new interface pretty fast.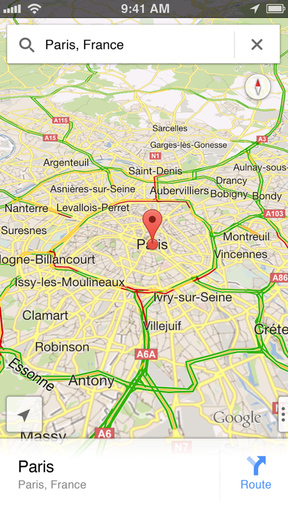 A really nice thing is the existence of an API, allowing developers to embed Google Maps in their apps as well. Google also offers a way to open addresses directly in Google Maps instead of plans by using a simple URL. If the app isn't installed, the URL will redirect the user to the App Store so he can download it.
The app also has some hidden functions. You can swipe to the left with two fingers to display a menu with toggles to activate the traffic overlay or the satellite view. If you shake the device, you'll see an option to send a bug report directly to Google.
Google Maps is available for free on the App Store in more than 40 countries and 29 different languages. The app is compatible with iOS 5.1 or higher and has no iPad version at the moment (they're working on it). Google's goal is to maintain a parity between the Android and iOS version, going forward. This could lead to some Android-specific features coming to iOS and probably a major facelift for the Android version in the near future.
Just like we could expect from Google, the app is as fast as Apple's and offers better directions.
Sources: The Verge