Sleep as Android is an app I've been using for quite a while now. Its primary function is to be an alarm clock that'll wake you up at the best possible time. How, you ask? By using its smart wake-up function. After activating it, you just have to put your phone on your mattress, not too far away from your body. The app will then analyze movements you make in your sleep to determine if you're in a light or deep sleep.
In the 30 minutes before your alarm time (you can configure the time frame), the app will use this data to attempt to wake you up when you're in a light sleep phase. If no light sleep phase shows up in the given window, you'll be woken up at your initial alarm time.
When you wake up, you're shown a quick recap of your night, telling you for how long you've been asleep, what your sleep deficit is for that night (based on the ideal sleep duration you set) as well as your deep sleep duration and percentage. The app will also ask you to rate your sleep and optionally leave a comment, if you checked the option. To be honest, rating your sleep isn't that useful if you haven't got SleepStats installed, which I'll present a little further in this post.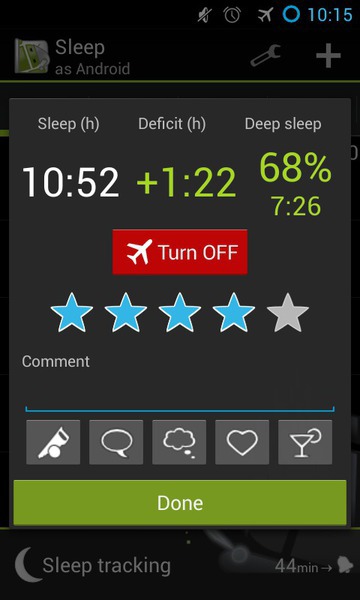 Once you've saved your rating, you can find the stats of every single one of your nights as well as your average stats in the stats tab. You'll also find your total sleep deficit there. I personally find this very useful, as it helps me realize how much sleep I'm missing, which encourages me to go to bed earlier.
In the graphs tab, you'll find all your sleep graphs, with your fall asleep and wake-up hours, the total length of your sleep and your rating on top of them. When you click on a graph, you'll see it in full screen. You'll also be shown your deep sleep percentage and any noise you made during that night. You can listen to those you made during a certain period by selecting the it and clicking a button. Please note you have to activate the sleep noise recording function for this to work.
You can also cut parts of the graph, which can be useful if you started the tracking too early or stopped it too late. Here's an example: say you go to bed, activate sleep tracking and can't sleep, so you decide to read a book for an hour. Sleep as Android will then have tracked a period which wasn't sleep, so you'll probably want to cut that part.
Speaking of lack of sleep, the app also has a function that comes in really handy for forgetful people like me. The function I'm talking about is the time to bed notification, which notifies you when it's almost time to go to bed, based on your ideal sleep duration. It's fully configurable: you can set how long before it's time to go to sleep it should warn you and if you want it to take your smart wake-up period into account or not. The app also displays the remaining time before you should be in bed at the bottom right of you alarms list. This is perfect to know what you can still do before having to go to sleep.
Here's a little example: say you configured Sleep as Android to warn you 30 minutes in advance, and your smart wake-up period is 30 minutes. Your phone will then tell you to go to bed one hour in advance. This way, you're certain you'll have the amount of sleep you need and if you need more, you'll have 30 more minutes to sleep.
The next section is a list of everything you can configure in the app. You'll see you can configure a whole lot of things so the app feels just right for you. Given the size of that list, I put it in a hidden section in order not to disturb reading.
List of stuff you can configure
SleepStats
SleepStats is an add-on for Sleep as Android that can show you a whole lot of additional graphs, which enables you to understand and analyze your sleep even better. Here's a list of the graphs it shows you:
The amount of total and deep sleep for each night, with the mean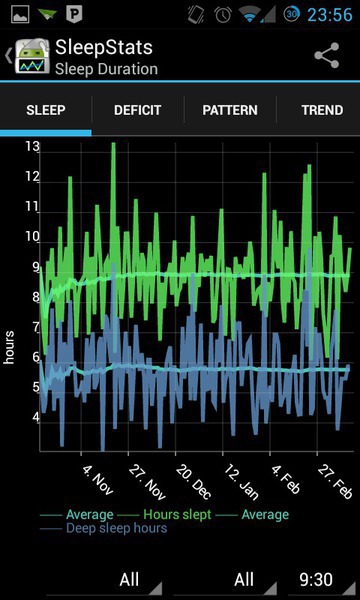 Your cumulative sleep deficit with your deficit for each night
A day by day representation of your nights in bars that go from your fall asleep hour to your wake-up time, also showing the deepness of your sleep (lighter sections represent lighter sleep)
How much time before schedule your alarm rang each day
Your average deep sleep percentage and your deep sleep percentage for each night
The average rating of your sleep
In the advice tab, the app also gives you some advice concerning your ideal sleep length and your ideal fall asleep hour, based on the data it collected. With that, you have plenty of other graphs showing you the following data:
Two curves representing your average deep sleep percentage and rating, based on your fall asleep hour
Two curves showing you the same data, but based on your sleep duration
A bar graph displaying your average deep sleep percentage and your average rating, based on your fall asleep hour
The same data, based on the weekday
Yet another bar graph showing you the average length of your sleep for each day of the week
One last graph showing you the same thing, based on your fall asleep hour
In a nutshell, it's an app I really love that helps me start my day feeling more refreshed than before. I think it's really worth its price, especially since I use it on a daily (well, nightly actually) basis. This app also has an amazing developer that will listen and respond to suggestions you send him. He publishes frequent updates and always has great ideas for new functions.
A 14-day trial version is available on Google Play here. To unlock the full version, you'll have to pay 2.39 euros (link). Concerning SleepStats, it's an add-on you can buy here for 1.49 euros.