At the beginning of this month, I announced that Leap Motion would announce the shipping date for pre-orders before the end of the month. Well, they finally did, but it will ship a bit later than planned. Here's the tweet they published an hour ago: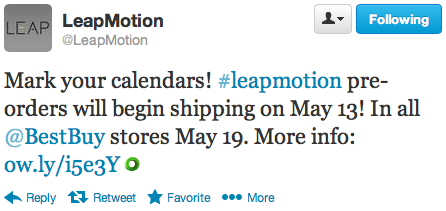 I told you pre-orders would arrive in the mail at the beginning of April at worst. Well, I was wrong… Or to be more specific: Leap Motion didn't respect the period they announced, which was this quarter.
Even if it sucks, at least now we're set. Pre-orders will be sent on May 13, 2013 and you will be able to get a Leap at Best Buy stores on the 19th.
Their Leap app store will also open at launch. This means we'll be able to look at some Leap optimized apps while waiting for our preciousssss device.
If you want to pre-order the Leap, it's still possible. Just head over to the official website. Unfortunately, the price went from 69.99 USD to 79.99 today. Those who pre-ordered the Leap before today will however keep the original price.
Follow-up posts:¶
Sources: Twitter